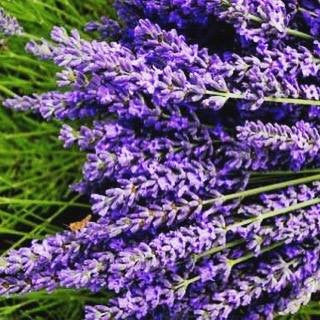 It's Springtime in many countries at this time of the year.... and Down Under, the weather however, is getting chilly as the cold season sweeps over slowly. Here in Singapore, what might normally be a wet season is turning out to be the hottest weather yet! But April brings new beginnings, it's the start of the second quarter of the year, how time flies. 
We celebrate the change of the seasons with the addition of our lavender range of products to our PrincessPearls Bathshop and PrincessPearls Pantry. 
Lavender is much more than just naturally fragrant, pretty & calming. It is one of the most powerful remedies in the plant world, offering both physical and emotional relief for problems as varied as burns, migraines, insomnia, insect bites, skin problems, infections, stress and nervous tension. 
Lavender is particularly rich in aromatic molecules called esters, which are antispasmodic, pacifying and tonic, while other molecules give it its antiviral, bacterial and anti-inflammatory powers. Of the many therapeutic attributes of the essential oil of Lavender would be one of the most consistently reported benefit of respiratory relief.
A refreshing note to a tired mind – lavender has been named as one of the most useful of the essences for the relief of anxiety and stress.It is good for aches and pains and muscle stiffness and may also help with rheumatic discomfort and joint stiffness. 
The cicatrizant properties of lavender oil are beneficial to healing of wounds including all types of burns and even treatment of eczema, dermatitis, scabies and psoriasis.
From the lavender growers in Yallingup (the region of Margaret River) in Western Australia, we bring in lovingly handmade, all natural, lavender products produced by Cape Lavender for PrincessPearls Boutique.
At our Pantry, we have added in Cape Lavender's Lavender Tea. Caffeine free long leaf loose black tea. Perfect for that relaxing afternoon reading and tea time or have it after dinner to bring your senses to a soothing relaxation mode, in preparation for bedtime.
The BathShop's range of PrincessPearls Healing Balm, Lip Balm and especially the Sleep Balm is MUST TRY! It is simply divine and having tested the sleep balm on my daughter all of this week, it is too good...no more tossing or fidgeting once the lights are out. Rub a little sleep balm onto your little ones wrists or for your older children, rub onto their temples too if you like and let them be lulled into a deep slumber with the all natural combination of oils and lavender and chamomile essential oils.
The Healing Balm is super soothing and when I was first testing the products, I had a bad itch with rashes on my hand and a little something nasty on my outer ear, the healing balm has not just soothed it, it has actually softened my hand and the redness and the itch has stopped.
Having been blessed with relatively good skin all my younger life, it was shocking when I was in my 30s and started having skin issues. Mostly contact dermatitis and some form of eczema. I try not to take oral medications and medicated ointments unless it is very bad. Tried organic products for a while and other than most organic stuff being outrageously expensive, over the recent years when I have started researching the ingredients, they are not all natural, true, they maybe certified organic but when they are combined with chemicals, the result is still non natural. Which explains why nothing really helped for a long time. I then decided to research and bring in only all natural products, straight from the sources. Try this all natural healing balm if you have sensitive skin or skin problems. Safe to be used on little ones too as there are no nasties added to this all natural, handmade product.
The Lavender Refresher Spray scents the bedrooms, the living areas (we have a day bed with lots of pillows and the spray onto these pillows makes it a totally heavenly place to chill), your linens and towels and also onto your face or body as a face or body mist. Delightful! Be careful though, it has such a relaxing effect that I feel like a catnap after each use around the home.
Over the next few months, I will be looking at adding to the Bath Shop the Lavender Arthritic Balm. I have had knee joint issues for years now and this is such a great soother and offers great relief and it is all natural. After years of using Voltaren Gel or Bengay when the pain gets too bad, I have been sourcing for all natural products to help with the knee pains and discomfort. The skin being the largest organ of our body absorbs everything we apply on it. We certainly do not need to add in extra toxic ingredients to ourselves. With the success of the sleep balm, I will also be adding in a Lavender Pillow Mist as well. Let each night be the most relaxing sleep experience for a restful, peaceful sleep.
Do let me know if there are other lavender products you might be keen on. I have explored Lavender Shower Gel, Lavender Body Lotion and Hand & Nail Cream but none of these can be truly all natural products as yet. My friends at Cape Lavender are working on this and hopefully soon, I will be able to add them to my artisanal, handmade, all natural range. That is my philosophy with this store, that everything I bring to you is tested and loved by myself and my family first. That they are truly all natural, no added nasties and that we support handmade products.
The Pantry has limited stock of Cape Lavender's home made Dukkah, an Egyptian condiment consisting of a mixture of spices, nuts and herbs. It is a mediterranean favourite and we love it! Add it to your olive oil and serve as a dip or get creative. One of my favourite uses for this is adding it to a rack of lamb and crusting the lamb with this Dukkah. Yumz!!!
Share with us your favourite recipes for using the Dukkah.
Enjoy the lavender products and the limited stock of our home made Dukkah we have .... we hope you have a pleasant shopping experience with us.
Everyone deserves to be a princess, Truly xxx